by Stephen Morrish (PendragonUK)
Introduction
A beautiful world with puzzles to solve. You quickly discover that you are part of a much larger mystery. Will you find the clues as the story unfolds?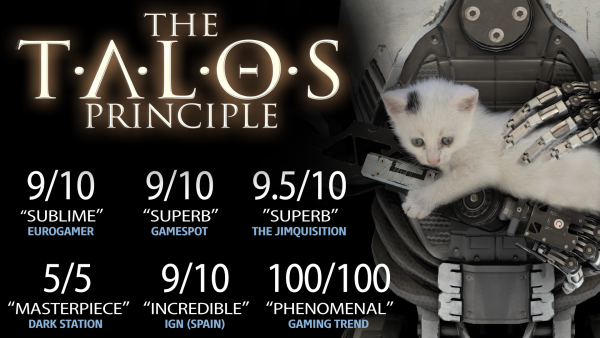 Features
Overcome more than 120 immersive puzzles in a stunning world.


Divert drones, manipulate laser beams and even replicate time to prove your worth - or to find a way out.


Explore a story about humanity, technology and civilisation. Uncover clues, devise theories, and make up your own mind.


Choose your own path through the game's non-linear world, solving puzzles your way.


But remember: choices have consequences and somebody's always watching you.
Who makes it
Croteam Ltd. is a video game developer based in Zagreb. The company is best known for the first-person shooter, Serious Sam. Starting development in the early nineties with a football (Soccer) game for the Amiga. Several years later gaining success with the Serious Sam games. The Talos Principle is the first departure from the Serious Sam franchise in recent years.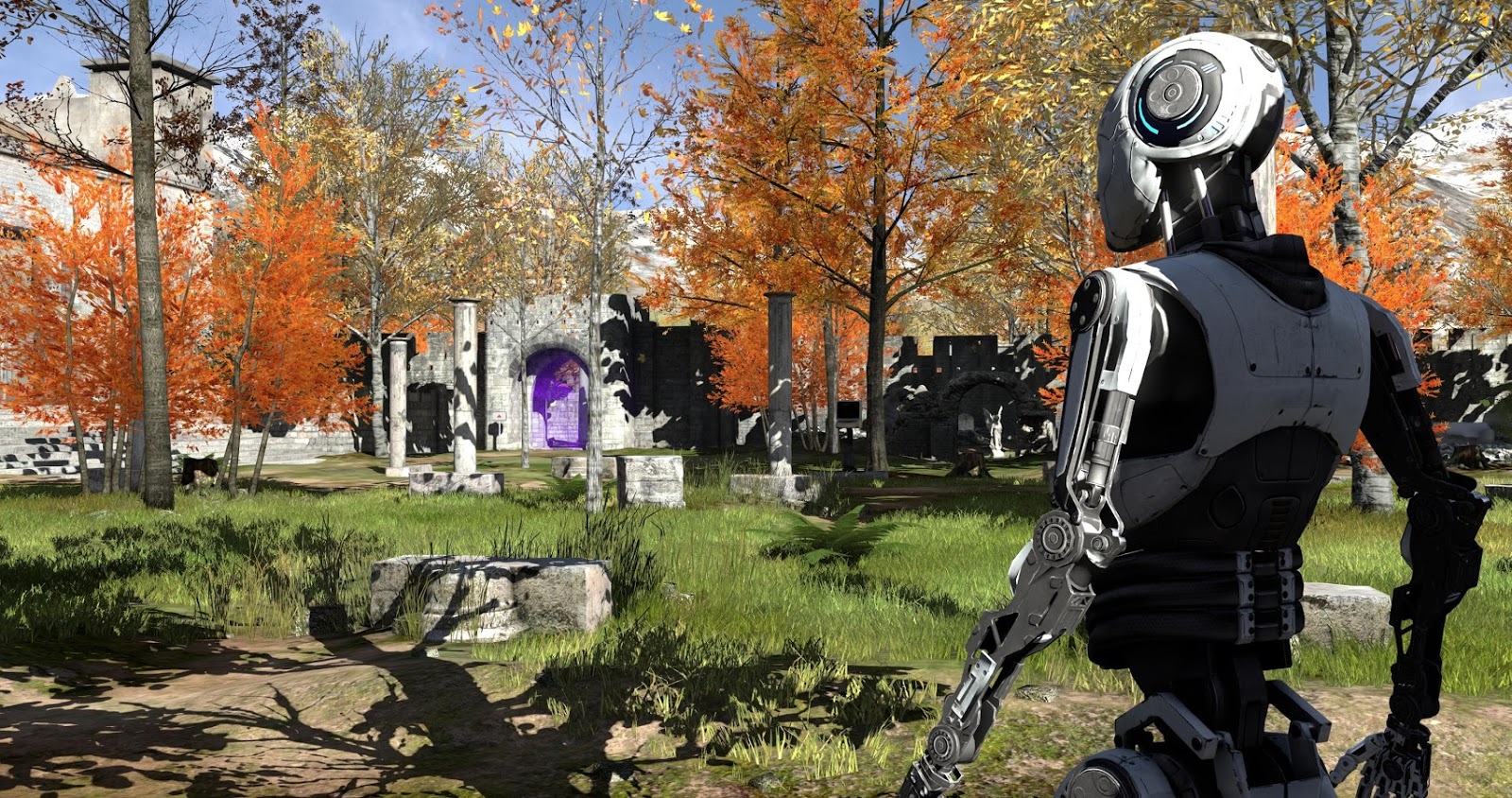 About the game
The game is a first-person single player puzzle game. There are a series of puzzles of increasing difficulty releasing keys and tokens that, once collected, allow you to progress further into the game. This on face value would be entertaining enough to recommend the game. However, there is a deeper mystery afoot. You quickly become aware of a subplot, a larger mystery to be solved. This gives what could have been a nice little puzzle game a story, one that you have to uncover.
You will be busy enough with lasers and force fields, but what will draw you in, are the terminals dotted around. There you will be greeted by a command line interface with questions and answers. These will expand the story, that is, if you can navigate through the question tree giving the correct answers.
There are QR codes painted on the walls, look at them to reveal the message. Out of curiosity, I picked up my phone and aimed the camera at the QR code. Much to my delight, the message appeared on my phone. Very clever, very clever indeed.
Each level is themed, ancient Greece with columns and statues. An Egyptian level with Pyramids and Hieroglyphs. All adding to the atmosphere of the game. This along with a god-like disembodied voice, giving instructions that are not always helpful, all add to the feeling of mystery.
Pros
Intriguing puzzles in a beautiful world full of mystery. It is beautiful and will show off your computer hardware to it's fullest. The developers are actively working on the game releasing updates and patches. In recent months this has included work on the new Vulkan API.
Cons
Some of the puzzles require a jump in logic. When you get stuck, you will be scouring the Internet for clues. System requirements mean that your computer will have to be reasonably modern to play.
Conclusion
You will be wowed by the beautiful graphics, stay for the intriguing puzzle and knocked out by the ending. You think you understand, everything is going well. You know nothing, it's not going well at all! This is one very clever game. Deep does not even come close to describe it. Possibly the most intelligent game written to date. So many games are little more than pulp fiction. This is a master class in the game maker's art. Yes, I said art, not too lofty a statement for work of this quality.
Information
Release on Windows, OSX and Linux simultaneously in 2014. Later released on Android and Sony Playstation 4.
Linux PC system requirements
Minimum:
Processor: Dual-core 2.2 GHz
Memory: 2 GB RAM
Graphics: nVidia GeForce 8600/9600GT 512MB VRAM, ATI/AMD Radeon HD2600/3600 512MB VRAM
Storage: 5 GB available space
Sound Card: OpenAL Compatible Sound Card
Additional Notes: OpenGL: 2.1 or higher
Recommended:
Processor: Quad-core 3.2 GHz
Memory: 4 GB RAM
Graphics: nVidia GeForce 480 GTX 1GB VRAM, ATI/AMD Radeon HD 5870 1GB VRAM
Storage: 8 GB available space
Sound Card: OpenAL Compatible Sound Card
Additional Notes: OpenGL: 2.1 or higher
Where to get it
Steam http://store.steampowered.com/app/257510/
Cost at time of writing $39.99 USD / £29.99 GBP
Expansion, Road to Gehenna $14.99 USD / £10.99 GBP
It should be noted that this game can be very cheap during Steam's legendary sales.