One-Pot Swedish Meatballs with Egg Noodles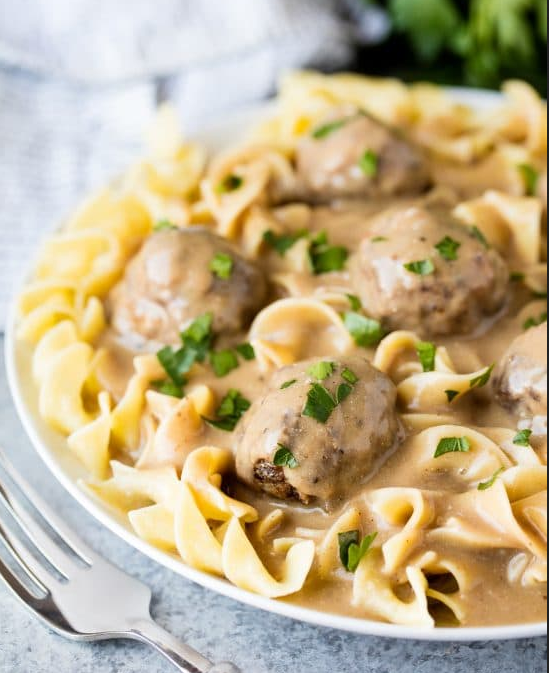 INGREDIENTS:
1 lb lean (at least 80%) ground beef
1 cup Panko crispy bread crumbs
1/2 cup finely chopped yellow onion
1/4 cup finely chopped fresh Italian parsley
2 tsp salt
1/2 tsp pepper
1/4 tsp ground allspice
1/3 cup milk
1 tsp Worcestershire sauce
1 egg
1 TBSP butter
1 carton (32 oz) chicken broth
3/4 cup heavy whipping cream
4 cups medium egg noodles (from 16-oz bag)
DIRECTIONS:
1. In large bowl, mix beef, bread crumbs, onion, 2 tablespoons of the parsley, 1 teaspoon of the salt, the pepper and allspice until well combined. Add milk, Worcestershire sauce and egg. Shape mixture into 12 (2-inch) meatballs.
2. In 5-quart Dutch oven, melt butter over medium-high heat. Add meatballs; cook 8 to 11 minutes, gently turning occasionally, just until browned on all sides.
3. Add broth, whipping cream and remaining 1 teaspoon salt; heat to boiling. Stir in noodles; return to boiling. Reduce heat; simmer 15 to 18 minutes, stirring occasionally, until meatballs are thoroughly cooked and no longer pink in center (165°F), pasta is cooked and sauce is thickened. Stir in remaining 2 tablespoons parsley.
TIPS:
For extra Swedish flair, serve with lingonberry jam.
Just keep stirring! This easy one-pot cooks quickly, so don't forget to stir often to prevent noodles from sticking.