Tortilla Casserole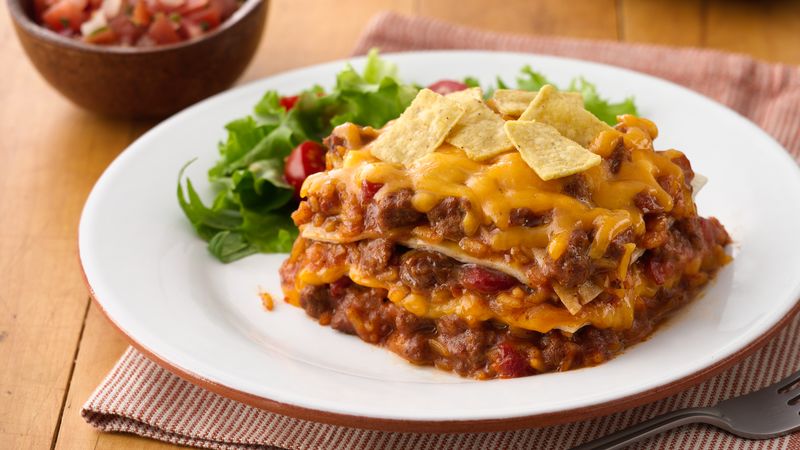 INGREDIENTS:

1 pound lean ground beef
1 small onion, chopped (1/4 cup)
1 1/3 cups hot water
1 cup Chunky salsa
1/2 cup milk
1 package Hamburger Helper™ cheeseburger macaroni
6 Flour tortillas, 6 inch
1 1/2 cups shredded Cheddar cheese (6 oz)
DIRECTIONS:

1. Heat oven to 350F (176.6C). Cook beef and onion in 10-inch skillet over medium-high heat, stirring occasionally, until brown; drain. Stir in hot water, salsa, milk, uncooked Pasta and Sauce Mix. Heat to boiling, stirring occasionally. Reduce heat; cover and simmer about 7 minutes, stirring occasionally, until pasta is tender.

2. Cut tortillas in half. Spread 2 cups beef mixture in ungreased rectangular baking dish, 11 x 7 x 1 1/2 inches, or shallow 2-quart casserole; top with 6 tortilla halves and 3/4 cup cheese. Spread with 2 cups beef mixture; top with remaining tortilla halves. Top with remaining beef mixture and cheese.

3. Bake uncovered 15 to 20 minutes or until hot and cheese is melted.
TIPS:
Store leftover tortillas in a resealable plastic food-storage bag or in plastic wrap in the refrigerator.

Like it hot? Use hot salsa and shredded Monterey Jack cheese with jalapeño peppers.