Compiled by Meemaw
In the February, 2021 issue, we reported on Chris Lewis, from North Carolina, who was restoring cars for his neighbors in need. In South Carolina, Eliot Middleton is doing the same, repairing cars for his neighbors.
"There's no public transportation," Middleton told CBS in June. "There's no Ubers, there's no taxis or nothing like that."
His story has already made national headlines. CBS covered him in June, describing his property being full of cars and his efforts to refurbish those cars for people in need. Since then, he has had over 800 cars donated to the cause. His sister has formed the Village 2 Village Foundation in response to his effort and the massive donations which also included over $100,000 in cash.
Eight Year-Old Named Citizen of the Year
Arianna was in Florida for a cheerleading competition. She was at the hotel pool, playing when she spotted a child face down in the water. She did not know how to swim at the time and didn't know what to do during an emergency such as that one, but she took action.
"I know that whenever you see somebody you want to make sure they're okay," she explained.
She flipped the child over, and brought her to the edge of the swimming pool, then called to adults nearby for help. The adults performed CPR and after deputies arrived, the child was revived.
In recognition of her heroism, Orange County Sheriff's Office in Orlando named her Citizen of the Year.
Community Rallies Around Business Owner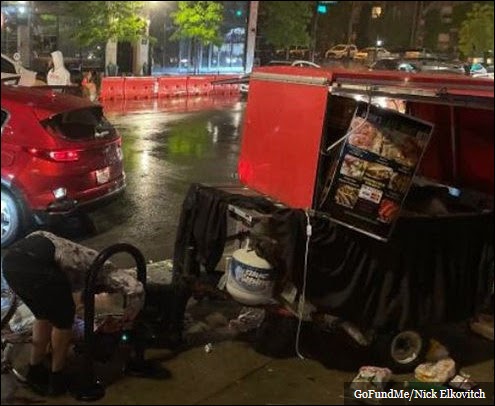 Adam Wallace is an Ohio business owner who has two food carts and a food truck. One night, the police called and told him there had been an auto accident and someone had crashed into one of his food carts and it had caught fire. The fire was put out, and Adam learned that his cook was safe.
Nick, a service manager at a nearby cafe, started a GoFundMe page for Adam in case he wasn't insured (he is). He was very touched by their generosity.
"Just the support from the community. I appreciate you guys," said Wallace. "You have no idea how much that means to me. I know you all love my food, but that is just love on top of love."
Boy Runs in Honor of Police Officer
Twelve-year-old Zechariah Cartledge is honoring fallen Illinois officer Chris Oberheim by running one mile with a thin blue line American flag.
Zechariah founded the non-profit Running 4 Heroes, Inc., with the goal of honoring those who make the ultimate sacrifice in the line of duty. Officer Oberheim was killed in the line of duty responding to a domestic disturbance early Wednesday morning in Champaign, Illinois. The suspect had been charged with domestic violence and possession of drugs, but during the disturbance, he was shot and killed. Oberheim's partner was shot as well, but has survived.
Zechariah ran ten laps around his elementary school track in Florida. He was joined by local Florida law enforcement officials, as well as Chief Raymond Garivey of the Freeport Police Department in Texas. He plans on giving the flag to Oberheim's family.
Paralyzed Teen Walks For Graduation
Hayden Hamilton was paralyzed from his neck down due to a spinal injury sustained in 2018 at a high school football game. However, in June, he walked across the football field to receive his high school diploma. He was assisted by his therapist, and used a brace and a walker. His graduating class broke into cheers and applause and gave him a standing ovation.
"I just wanted to be able to walk off that field again because I never got to do it that night [of the injury]. I'd say that was the main goal, to walk off that field once more," he explained.
Dog Saves Owner from Rattlesnake and Survives
Marley, the seven-year-old Labrador Retriever, heard the snake that was about to attack his owner, 18 year-old Alex Loredo. Alex had been going out to the clothes dryer which is out behind his house. Marley pushed Alex out of the way and got between him and the snake, causing the snake to strike and bite Marley twice.
Alex and his mother got Marley to the veterinarian office where they administered antivenin and admitted Marley to the animal hospital for two weeks. Marley has made an almost full recovery, still having some nerve damage on his tongue and jaw. Alex created a GoFundMe page to get help with the vet expenses.
Community Rallies to Save Couple's Wedding Day
Elizabeth and Jake Landuyt had just gotten married and were at their reception when a nearby building caught fire, forcing them to evacuate the reception area and go back to the church. They prayed for everyone's safety, and found out everyone was unhurt and the building was saved.
They wondered how they could continue their reception, but didn't know that the community had run with an idea. The venue's chef took the 120 meals that were only halfway prepared, and told his staff to take them to the restaurant next door. They finished the food and took it to a resort with space available. Whatever they lacked, another nearby restaurant provided. Neighbors volunteered for necessary jobs, one stepping up to act as bartender and one person helping carry the flowers down to the "new" venue. In less than an hour, the reception was on again.
DJ Raises Money To Fix Vehicle
A Chicago DJ driving to work saw a young man walking, on several occasions. Giving him a ride, "Ramblin Ray" Stevens found that Braxton Mayes was walking to work because his truck had broken down. He learned that Braxton had to leave home at 4:00 a.m. to get to work by 7:00 a.m., as it was a 3-hour walk each way.
"This guy checks all the boxes," Stevens noted. "He's a good, solid human being. People are having a hard time finding people to work and here's a guy walking three hours one way just because his truck broke down."
Stevens created a GoFundMe page which has raised more than its $10,000 goal. Stevens posted, "Let's help Braxton get his truck fixed! Any other left over money will go to Chicago area food banks."
Mayes said "It brought me to tears. I didn't know when I would come up with the money to fix it or how many times I would have to walk." His employer is giving him a ride right now, but his truck should be fixed soon.