By Alessandro Ebersol (Agent Smith)

There's a new guy in town (not really, but...)
On 10/22/2021 Softmaker FreeOffice was released, another office suite option for Linux. Our beloved operating system is reasonably well served in this area, with several options: Softmaker FreeOffice, OnlyOffice, LibreOffice, Calligra suite, and OpenOffice is still maintained by the Apache Foundation.
Who makes Softmaker FreeOffice?
SoftMaker Software GmbH is a German software company based in Nuremberg that produces office software. SoftMaker was founded in 1989 by Martin Kotulla. In 1991, it also added digital fonts to its offerings. Best known in Germany and the EU, SoftMaker is slowly seeking the North American market.
Students, teachers, schools and universities can purchase SoftMaker Office for a lower price as part of SoftMaker's academic sales program. In addition there is the FreeOffice version, which we will review here.
What does FreeOffice come with?
From the FreeOffice site:
"FreeOffice 2021 is a full-featured Office suite with word processing, spreadsheet and presentation software. It is seamlessly compatible with Microsoft Office and available for Windows, Mac and Linux.
Composed of 3 programs, TextMaker, PlanMaker and Presentations, softmaker's free suite allows the user to create and edit texts, spreadsheets and presentations."
Features
TextMaker has the following features:
Documents can be exchanged losslessly between any version of TextMaker on any operating system.


Open and save Microsoft Word DOC and DOCX files in a format identical to the original files, including password-protected files.


Open and save OpenDocument files in a format identical to the original files.


Open and save documents in RTF, HTML, Pocket Word, ASCII and Unicode formats.


Open WordPerfect (.wpd) documents (Windows only).


Wizard for importing and exporting text files.


Create PDF files directly in FreeOffice TextMaker.


PDFs with labels and bullets.


Preview documents directly in the file dialog.
PlanMaker has the following features:
More than 430 calculation functions.


Worksheets with 1 million rows and 16,384 columns.


Supports complex number and vector functions.


Numbers can be formatted as currencies, with fixed decimal places and thousands separators, as percentages or fractions, dates, times, etc.


Perpetual time format (20:00 + 5:00 equals 25:00, instead of 1:00) that also allows negative times.


AutoSum, AutoProduct, etc.


AutoFill: smart filling of cell ranges with values and rows of values.


External References (calculations that access data in other files).


Compatible with the open ODS format and with Microsoft XLS and XLSX formats.
Presentations has the following features:
Open and save Microsoft PowerPoint PPT and PPTX files in a format identical to the original files, including password-protected files.


Compatible with the open ODP format.


Print and create PDF files directly in FreeOffice Presentations with your choice of slides, topics, handouts and notes.


PDFs with tags and bookmarks.


Export entire presentations as images.


Preview documents directly in the file dialog.
General features, from all applications in the suite
Interface: Ribbon or classic menus
Special interface for touch devices


Normal


Touch

How to install?

In the site https://www.freeoffice.com, click on the penguin icon, as in the picture below.



Then click on download .rpm package for RPM-based systems, as in the picture below.
You should download a file of about 90 MB. After the download, as root, install it with rpm -ivh softmaker-freeoffice-2021-1036.x86_64.rpm.
Note that you will be installing a program from outside the official PCLinuxOS repositories, so any problems that may occur, there is no support from the PCLinuxOS team for this situation.
Once installed, the program is in the Office section of the program menu.
On the first run, the program asks the user to choose the user interface.
Once you have chosen the interface, the program is ready to use.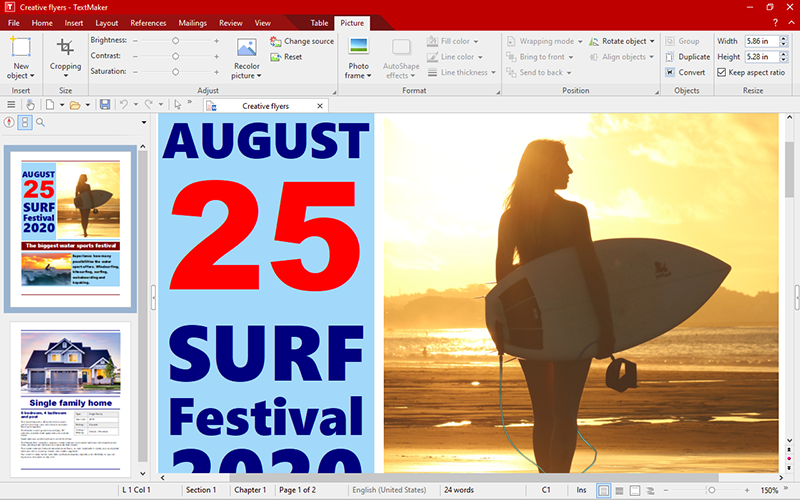 What are my impressions?
The program does not have the save as ODT function enabled right away. It has to be enabled in the options menu. But once enabled, it is perfect, it saves and reads ODF perfectly.
As for the support for the OOXML format (proprietary from Microsoft), it is also very good. The built-in ODF support is much better than the Only Office support, which, some time ago, was not very consistent.
With a familiar ribbon interface, it can be used as an option to the pirated Microsoft in the workplace or study.
One of its advantages is that it is cross-platform, and, has support for Android devices, and, Softmaker was one of the first to offer its office suite for mobile devices.
Is it worth using (and buying)?
It depends on the user's needs, if he needs an office suite with the features of Softmaker FreeOffice. If you want the paid commercial version, it is not very expensive, and it performs very well. I have not tested the spreadsheets or presentations, but the program is consistent and its varied interface can help migrate users from MS Office.
How does it compare to LibreOffice?
I would have to do a more in-depth analysis, but LibreOffice, right off the bat, is a more complete suite than FreeOffice. However, FreeOffice is lighter to run, and in spreadsheets it has more capabilities to create very large spreadsheets.
Site: https://www.freeoffice.com/
Price: Free